Annual Convention
Lifetime Achievement Award
The Cleaning Equipment Trade Association (CETA) established the Lifetime Achievement Award in 1995 to recognize those who have achieved excellence in the Pressure Cleaning Industry and to honor those who have made significant contributions.
Nominee must have made a significant contribution to the industry and will continue to distinguish their work in the improvement of our industry.
The prestigious CETA Life Time Achievement Award honors an individual or individuals who have made significant contributions to the pressure cleaning industry. The CETA Board of Directors is pleased to present this year's honorees with this award for their many achievements and contributions to the Pressure Cleaning Industry.
Please contact Awards Chair, CETA, with suggested nominations and requests for information at info@ceta.org.
Lifetime Achievement Nomination Form & Criteria
Criteria for Lifetime Achievement Award
---
Dr. Marlo Dean & Mr. Roger Walz — Current Recipients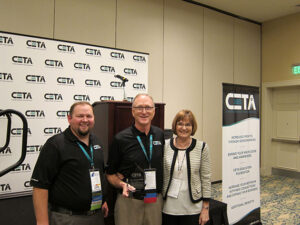 Dr. Marlo Dean
Dr. Marlo Dean has contributed to the entire industry through involvement with CETA. "Being on the CETA board for over twelve years working and networking with the competition has been important to my career and also to resolve industry issues."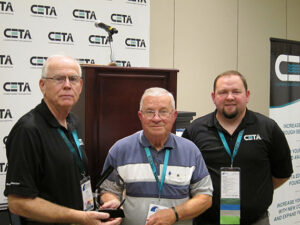 Mr. Roger Walz
A lifetime of pioneering, dedication, commitment, and service to the Power Cleaning Equipment Industry. Roger Walz fulfills all those requirements and more.
Past CETA Lifetime Achievement Award Winners
1995

Walter Malsbury

Walters Manufacturing

1996

Jack Simpson

Simpson Company

1997

Jim Coleman

Mobile Sales & Service

1998

Jerry Alexander

KO Manufacturing

1999

Gene Bowling

Alkota Cleaning Systems

2000

Dwayne & Gale Whitmire

Whitco, Inc.

2001

Michael Christopherson

General Pump Inc.

2002

William Bruggeman

Cat Pumps

2003

Larry Linton

Landa Water Cleaning Systems

2004

Charelen Laymon

Hotsy Bay Area

2005

Cliff and Betty McGinty

General Equipment Company




 

Royce Rasmussen

Royce Industries LLC

2006

Charlene Yarbrough

Advantage Publishing

2007

James A. Scott

Alkota Cleaning Systems

2008

Jim Prosser

J Prosser Enterprises

2009

Ben Benefield

Etowah Chemical Sales and Service Inc

2010

Bob Griswold

Apache Industrial Cleaning Systems

2011

Bob Farley

Farley's Inc.

2012

A.J. Speigel

Mi-T-M Coproration

2013

Roy & Linda Chappell

Chappell Supply & Equipment Co.




 

John Sr & Brenda Purswell

Alklean Industries, Inc.

2014

Gary Scott

Alkota Cleaning Systems

2015

Ralph A. Notch

AR North America, Inc.

2016

Charles Tibboles

R.W. Beckett

2017

Tim & Karen Layden

High PSI

2018

Dr. Marlo Dean

Karcher NA




 

Mr. Roger Walz

Alkota Cleaning Systems
---
Annual Convention
CETA Distinguished Service Award
Past Distinguished Service Award Winners
1986

B. H "Bud" Benson

L & A Products

1987

William Lindsay

L & A Products

1988

Robert Borden

1989

John L. Roy

1990

Warren Jarvis

1991

Patrick Wingen

AaLadin Cleaning Systems

1992

Charlene Laymon

Always Under Pressure

1993

Ben Benefield

Etowah Chemicals Sales & Service

1994

Larry Linton

Landa Inc

1995

Dave Wyett

Kleen Quip

1996

Mark Adams

Hydro-Blast Inc

1997

ORIX Credit Alliance Inc.

1998

Tom Martin

Elite Manufacturing Corp.

2000

Roy Chappell

Chappell Supply & Equipment

2002

Charlene Yarbrough

Advantage Publishing

2003

Robert Griswold

Apache Industrial Cleaning Equipment

2005

Paul Lombard

Service One LC

2006

Karl Loeffelholz

Mi-T-M Corporation

2007

R. Calvin Rasmussen

Royce Industries, L.C.

2017

Gary Weidner
---
Annual Convention
Community Service Award
Community Service Award History
1994

RGF Environmental Systems Inc

West Palm Beach, FL

1995

Royce Industries LC

Salt Lake City, UT




Royce & Julie Rasmussen

1996

Landa, Inc.

Portland, OR

1997

Steam Cleaners,

Inc. Fresno, CA

1998

Mi-T-M Corporation

Peosta, IA

1999

Elite Manufacturing

Corp. Decatur, AR

2000

Pressure Systems Industries

Phoenix, AZ




Robert Fowler

2001

Beaver of Wisconsin

Plover, WI




Chester Biadasz

2002

Bozeman Distributors

Baton Rouge, LA

2003

Not awarded

2004

A.J. Spiegel, Mi-T-M Corporation

Peosta, IA

2005

Sioux Corporation

Beresford, SD

2006

Alfred Karcher GmbH Company

Germany

2007

Pat Wingen, Aaladin Cleaning Systems, Inc.

Elk Point, SD

2016

Rodney Adkins – CTS Cleaning Systems, Inc.

Fayetteville, NC