CETA University is a Member Benefit – JOIN NOW! For full access to CETA U.
The CETA board of directors is excited about relaunching CETA University.  This newest benefit will provide all members an online resource guide that will help to supplement the training needs for new and current employees.
With the new CETA University platform , members will be able to access a library of videos to assist them when training new employees in the office, or it can also be used in the field.  The content library will be a collection of how to videos and best practices gathered from experts both inside and outside of the industry, covering a wide range of topics.
The CETA Board of Directors decided to address the issue of providing education after hearing from several long-standing members that this is one of the biggest issues facing them as small business owners.  It is estimated that average cost of training a new employee is $1,252.  This figure does not include the time that will accompany those expenses.  Employers use an average of 33.5 hours per employee.  The board of directors would like to address this issue and help create even more value for its members.
The CETA University Committee continues to gather content for the online portal as well as making sure to create a user experience that is easy for all to access.
A major resource for this knowledge base has been The Pressure Washer's Guidebook. Cleaner Times Magazine has generously allowed CETA University to use excerpts from this guidebook throughout the knowledge base. We have provided page number references for each excerpt from the guide so that users can easily find the location in the book and read more. The entire guide covers a wide range of topics focused on running and operating a pressure washing business.
The excerpts from the guide used in this knowledge base are valuable nuggets, but we highly recommend obtaining a copy of your own for your company. Nothing beats learning directly from the source.
To view more details about the Pressure Washer's Guidebook, see the YouTube review, and get a copy for your team, follow this link:
http://cleanertimes.com/BOOKS/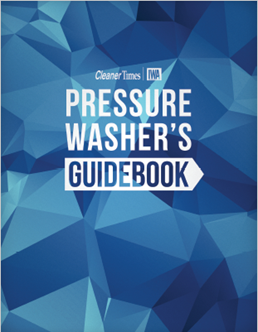 From the Pressure Washer's Guidebook forward:
"Whether you are just starting in pressure washing or have been involved for a few years or a few decades, this Pressure Washer's Guidebook is designed to educate through the hard work and hard-earned knowledge of others who have gone before you in the industry. So, step up, learn, implement, and succeed. Cleaner Times | IWA desires the best for you and your company."