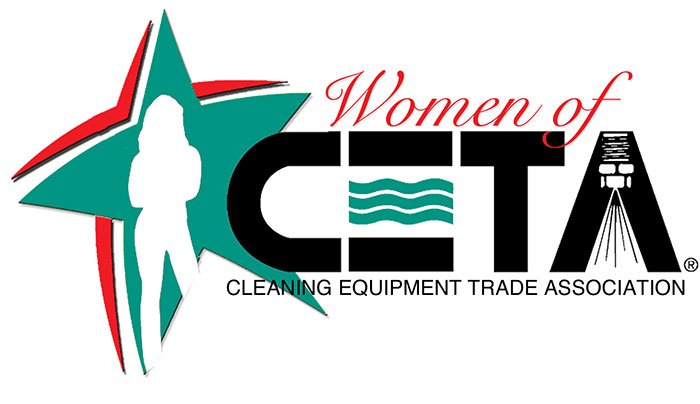 The Women of CETA
Working Better. Together.
By Terri Perrin – Cleaner Times
From equipment manufacturing to sales and distribution, to the individuals working on the equipment, it is no secret that men have traditionally dominated the pressure cleaning industry. But the times, they are a-changing!
Over the last 20-to-30 years, women have been moving out of bookkeeping and clerical roles to take on management positions in the pressure cleaning industry. This is apparent in the ever-increasing number of females in attendance at the Cleaning Equipment Trade Association's (CETA) Annual Conventions. Just over ten years ago, a group of CETA women felt there was a need to be proactive and unite the women who were attending these conventions. Brenda Purswell, president of Alklean Industries in Pasadena, TX, lead that charge and is credited with being the driving force and founder of new branch of the organization called the Women of CETA or WOC.
The Founding of Women of CETA-WOC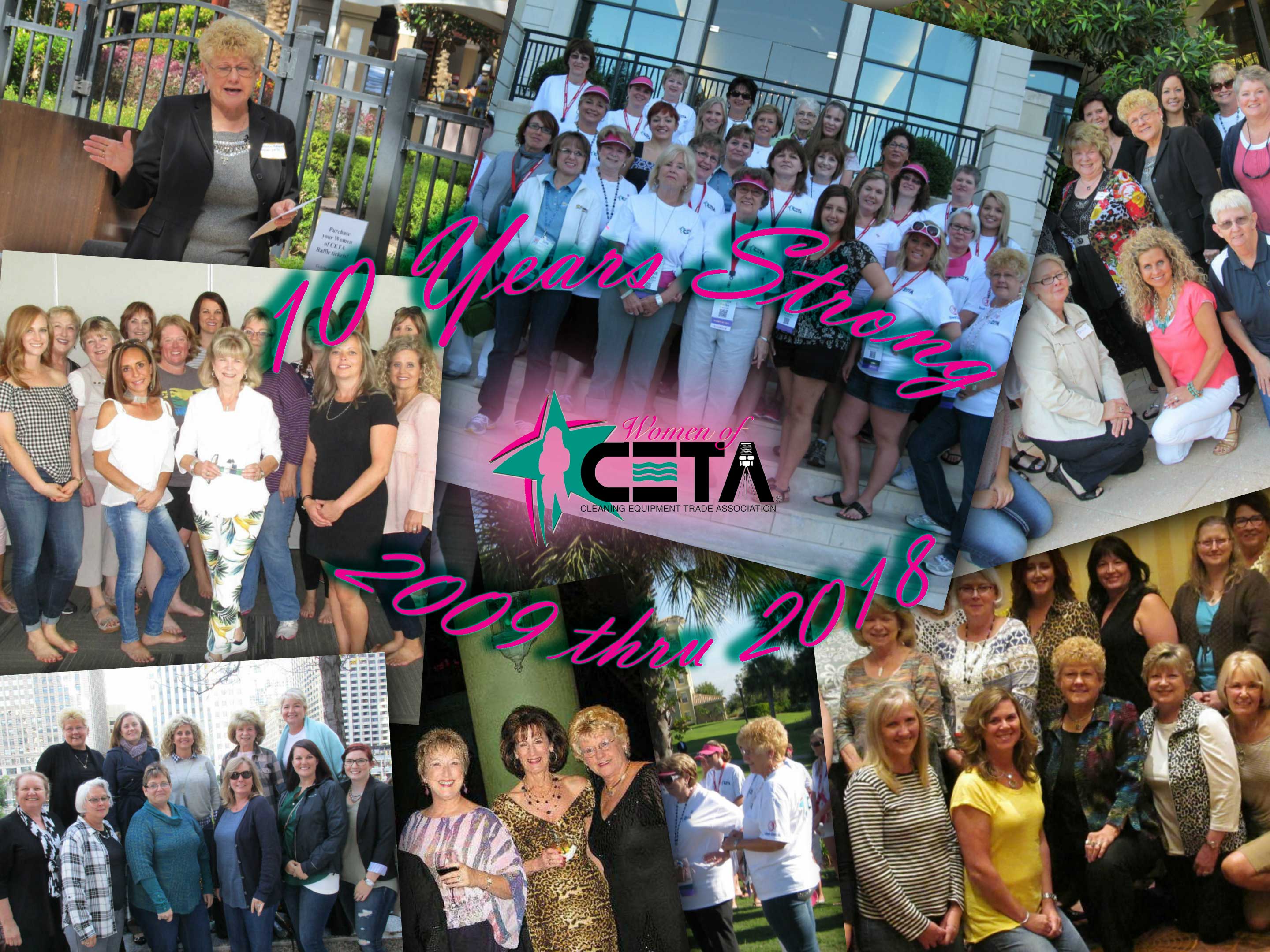 With 45 years of industry experience, Purswell has witnessed an evolution in the demographic make-up of the industry in general and CETA in particular.
"When I began in the cleaning equipment industry in 1971, there were very few women in this line of work," recalls Purswell. "Sure, there were a few women – who were often the spouses of the owners – in the manufacturing and supplier arena, but virtually none in the distributor side. It was definitely a man's world. However, as time passed, more and more women became active in many roles, such as managing offices for the distributorships, then sales, and eventually management and ownership. At the CETA conventions, there was never a venue for us to share our issues and discuss problems that were related to the jobs we did, and the contributions we offered to the industry. So the idea of creating the Women of CETA was conceived, to offer opportunities to build relationships, friendships, and to mentor each other."
Purswell explains that she first had to introduce the concept to CETA's Board of Directors, and that took a bit of time. But, after a couple of years of diligent efforts, WOC was officially founded in 2009. Their mission is simple: to provide an opportunity for women to form bonds with each other, and to facilitate communication and friendships across all cleaning industry sectors.
"I love this industry and the people in it, and I welcome the opportunity to share ideas and help others," concludes Purswell. "I always learn from discussions from any distributor and that always makes me better at what I do. I have never wanted WOC to be about me … and it is not! I love having others involved and watching them grow as they take leadership roles in planning the annual meetings. Every year it gets more involved and that is what I envisioned for this organization. I am a firm believer that getting involved always makes you stronger."
Membership in WOC is free and is included as part of a regular CETA membership.
You're invited to join the ladies in 2023…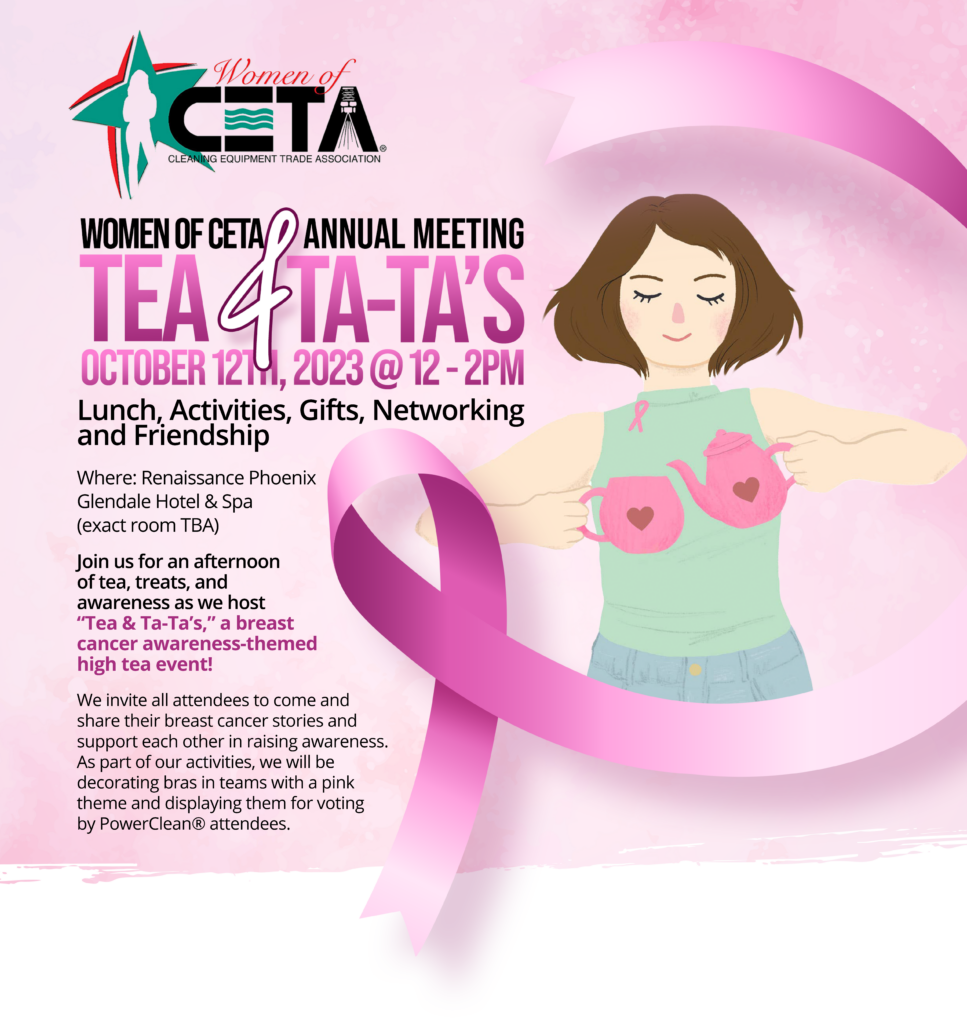 It's a forum where we can visit, enjoy fellowship, and have fun!
To register to attend click the Registration Form to RSVP via email or click Register Online.